Though the title might remind someone of Shakespeare's braveheart Caeser, and the story might make the readers nostalgic… that of poor Romeo and Juliet, the 'fault in our stars' are always there around us. Today, we will be looking how John Green creates his fiction in The Fault in Our Stars, a 2012 masterpiece. The review is written by Aditi Jain.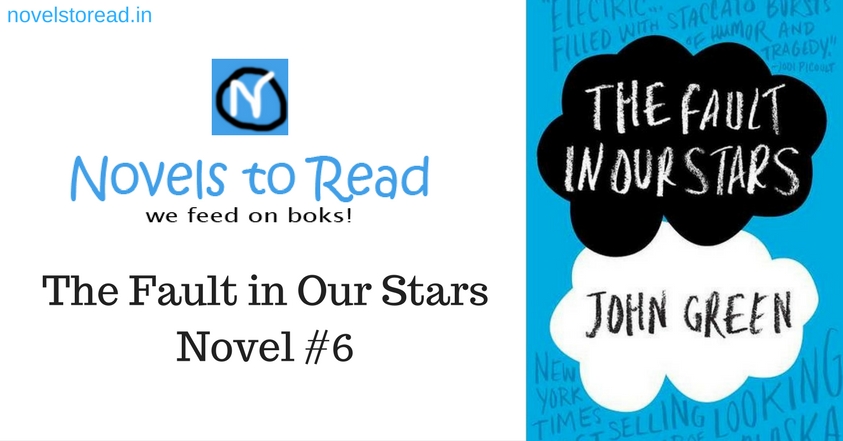 Cancer is one of the many topics that is talked of very lightly as well as rarely. Many people think of it as an untouchable subject. As soon as the diagnosis is given, almost no one knows what to say or how to react. This book, "The Fault In Our Stars" by John Green gives the readers an honest look at cancer, which among many other things is simply a side effect of dying.
Hazel Grace Lancaster is one of the many people who has this side effect. She has undergone many different treatments for this, but she knows as well as her family that death is impending. She has terminal cancer which has almost ceased her ability to breath on her own. In the beginning, Hazel joins a support group for cancer survivors. Although she is not thrilled about being a part of this group but, soon she finds a reason to like it – Augustus Waters. Handsome, Augustus immediately shows an interest in Hazel and the two become fast friends. No one understands a cancer kid like another cancer kid and the two are there for each other through thick and thin. They spend many days and experience together from reading the same books to playing blind video games with their friend Isaac (not the famous Isaac Newton of course). The biggest impact is left by a book called An Imperial Affliction. This is also a book about cancer. Many of their adventures are driven by this book from many different conversations to a wish turned into a trip.
Augustus always works to leave his mark on the world and Hazel attempts to understand why this is so important to him. And eventually, it comes out to be that neither of them truly understands the other one's point of view. But, that's why I believe it's said that opposites attract. The two characters (lead ones) who are opposite, if not absolute, are drawn bit by bit to each other. He is drawn to her in a way that is initially uncomfortable, and as she tries to push him away in her sarcastic way, he finds her to be exactly the type of girl he has been looking for. Throughout the story, there is beauty and humour, a 'candle in the wind' for each of those whose life has been touched by such an uncaring disease. For cancer touches not just the victim but all those who love that person are in this or that way touched.
Without revealing much of the story, the boy dies, at last, leaving the girl behind him. He had been doing something serious which was truly praiseworthy… there are also inventions like 'pre-funeral' in the novel. Rest is something that readers must read in order to find out.
I would recommend that everyone should read this book. To quickly summarise, I have no hesitation saying that piece beautiful, enthralling, funny and just fantastic! It shows how a short life can still be an infinity. It changes the way a person thinks about his or her life. Of course, to most of the readers of young age, the novel must have offered something called 'hope'.
I also enjoyed the flow of the book. Throughout this book, many things are there that bring each of the characters together through the good and the bad. A kind of union (or liaison) is always there cooking in the mind of the John Green which might be his impetus. When we know things will break, the author manages the strength and keeps firm. This is one way the author provides a base which is very important to this story.
• I picked this book up because ~ it looked like an interesting and thought provoking book.
Also, I admit I'd seen the 2014 movie before I read the book, so I already knew the story, but I knew the saying 'the book is always better than the film', so of course I had to read it too!
• I'd give this book to ~ anyone who enjoys reading. This book can appeal to just about any type of reader and will leave any reader enjoying it and be wanting to finish it.
On a critical note, the book caters to the interests of a certain kind of readers very well. Though not so universal in appeal compared to the masters who were rich at creating sentimental journeys to the east, the book The Fault in Our Stars is no less than a modern bestseller which has claimed a spot for the author as well as for itself in the history of fiction writing!
Review by – Aditi Jain