Indian novel writing has seen its early dawn in the times when the three founding pillars were indulged in the business. One of them, Mulk Raj Anand, was so keenly involved with the preoccupations of the people from the lower class of the society that he devoted most of his novels to their struggles, life and upliftment. One such novel by Anand is Coolie. A 1936 novel based in British India, Coolie is the story of a boy named Munoo and his struggles in the society to find his existence and sustain it. This novel also inspired a movie of the same name in which the living legend Amitabh Bachchan acted.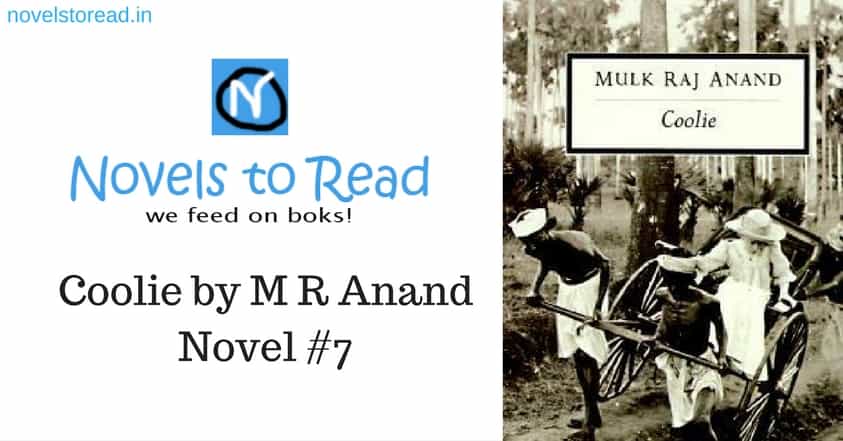 The novel Coolie is a technically strong novel with so many slangs used in it. The plot of the novel revolves around a single character named Munoo and his plight. He lives multiple lives and at last ends himself in the incessant fight against the colonial empire's India's social injustice where men used to pull the rickshaws for another. He works on a farm; he works in a factory; he works for a foreign ma'am and he dies… The tragedy of Munoo and the exposition of exploited labour class in the British empire was the goal behind this novel and Mulk Raj Anand succeeds in his purpose very well.
As usual, the long-tailed details of the events is a special trait of the Indian classic English novels written by the trio – Anand, Narayan and Rao. Here also, in Coolie, you will find even the slightest details as a woman breastfeeding her child in the running train on which Munoo is spotted by a pickle factory owner and taken as a blessing from the almighty. Pathos is generated by the author so very much that a reader has no choice but to feel the suffering which Munoo feels. He is an orphan and is adopted at some point in the novel but the cruelty of the British bereaves him of his new parents. Again alone, on his own, he ventures from place to place to earn a living and lives so many days on his own conditions. A kind of satisfaction is there in Munoo but the readers are always angry on his condition which is by all means pitiable!
Undoubtedly, a masterpiece of the colonial era, Coolie is a must read for the readers who want to know the societal conditions pre-independence. Mulk Raj Anand always posed as a champion of the poor and the lower class people. His novels are mostly examples of that. You will have no complaints against him… Anand has created a true piece of suffering in his novel and his writing is still far ahead from the pieces created after him and before him in India!