Friends, it's the time I should get the readers of Novels to Read ready for an upcoming novel, the debut one by Prabhat Ranjan – With You; Without You. The novel will be released in the middle of this month, September 2017. A complex love story with many facets, Prabhat's work has been written in Hindi, the language which resides the closest to the Indian hearts and according to the author himself, the language which is the best vessel for the transfer of emotions directly from the heart to the text printed in the book! Before the book becomes available on Amazon and you can get your hands on your copy, I thought it best to tell you why With You; Without You is a MUST READ novel for all the readers who are interested in reading modern fiction.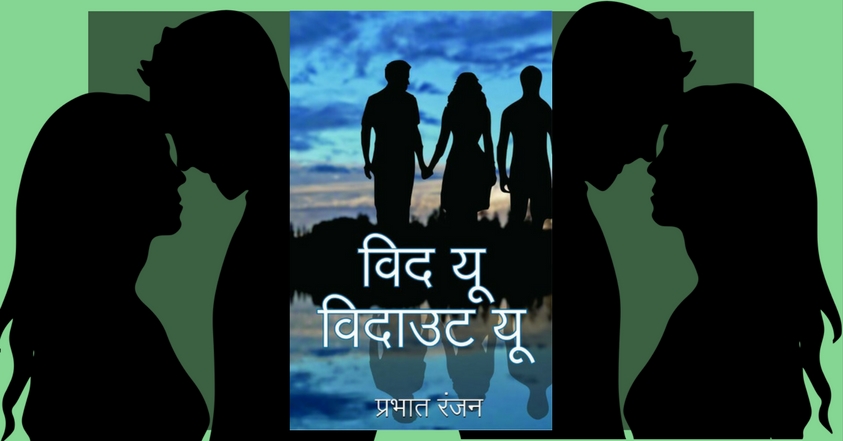 Prabhat Ranjan is an engineer by profession and he has had enough of experiences in his life that he thought best to share with others. Writing is still the best medium which can help a person getting the message delivered to the maximum people in one go and so he decided to write his story too. With You; Without You is a novel which features three major characters – Rami, Aditya and Nishind. Rami is a girl who is modern and up to the day in every possible way. She is caring for her womanhood and identity and her own recognition. She does not want to be known by someone else's name. Aditya and Nishind are the youths who represent the youths of the day. These three friends have several ups and downs in their relationship and they are not sure what's going on. Someone (from the two) loves Rami and other thinks of her as a friend but as a lover too. The author describes the situation in his own terms:
"रमी के लिए निशिन्द दोस्त है तो आदित्य प्यार,
लेकिन निशिन्द के लिए रमी दोस्त भी है और प्यार भी।
रश्मि देसाई के लिए आदित्य दोस्त है तो निशिन्द प्यार,
लेकिन निशिन्द के लिए रश्मि देसाई सिर्फ दोस्त है।"
This is a love triangle which features in the book in two parts with the same set of characters but indulged with different angles. Moreover, the book also features many other aspects of human life and human emotions. This novel by Prabhat Ranjan explores other dimensions of a matured and sensible writing which offers to the readers a lot in a single book!
"आप अपने जीवन में चाहे जितनी भी भौतिक ऊंचाइयों को छू लें आपको वास्तविक सुख और संतोष का अनुभव तब होता है जब आपके पास उन लम्हों को अपने पूरे परिवार के साथ बिता पाने का वक्त और मौका हो। नहीं तो एवरेस्ट को जीतने की ऊंचाई भी आपके अंदर के अधूरेपन को कभी पूरा नहीं कर सकती। आपकी कोई भी बड़ी से बड़ी जीत तब तक अधूरी है जब तक उसमें आपके तमाम अपनों की हिस्सेदारी न हो।"
Prabhat Ranjan will surely establish himself with the release of this book a Hindi novelist who knows how to collect the emotions and throw them back to the readers in a way that it keeps them spellbound to the text until it ends! Be ready for the release of With You; Without You in this month and make sure you grab the first of the copies. Who knows, you might get lucky and get a signed copy too! I will be back with the review very soon!
Get more about the author on http://authorprabhat.in/