Dear reader friends, we have had so much of fiction novels coming our way and we should have enjoyed those. Now is the time for a little change and shift our reading eyes to some quality nonfiction and I have one perfect option ready for you all. Today, I will be sharing a review of Shilpa Raj's debut book, a memoir which is no lesser than a novel with so many twisting tales to be told by the author. The book is mostly about the struggles of the narrator, Shilpa, and her bravery and courage with which she braved all the adversity on her way to achieving the goal of her life – becoming something which would let her parents be proud of as well as give the society some moments of pondering.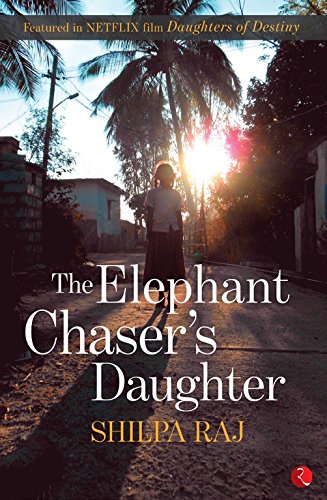 As many book critics from India have already pointed out that the book is about the social injustice that has been continuing, unfortunately, for the ages, I will also countersign that thought. Nevertheless, I also see that the author Shilpa Raj has not only portrayed the adversities which "The Elephant Chaser's Daughter" had to face but she has also indicated that given the ample opportunities, the lowers of the lowests can also shine one and prove that they are capable of doing many things!
As for a debut, the class and authority with which Shilpa has penned the book is something marvellous! She is not be said just a debut author but an author with eyes which envision the long term effects which her writings are to leave upon the society. And her book proves the same – she could make her debut smoother by penning a convenient fiction and sell more than expected copies. However, she has rather decided to mirror where we lack! She has decided to offer this society the opportunity for introspection whether we like to continue the status quo or we cant to create a New India for real…
Gender issues, caste issues, class issues, issues of poverty, issues of Dalits, issues of lack of education, issues of political and bureaucratic apathy… Shilpa Raj has raised many issues in her very debut work The Elephant Chaser's Daughter and it must be commended! She deserves the applauds as well as the respect for having done what many others could not in their debut work. She has emerged as a face for those many who cannot voice for themselves and don't get a share on the dais.
You can buy The Elephant Chaser's Daughter from Amazon, the link given below. And if you buy from the link below and send your purchase proof and Paytm number to 8873371309, you will be getting 5% cash back in your Paytm wallet!
Buy the Kindle Edition and read it on your smartphone! HUGE DISCOUNTS!

review by – Sumit Raj
The Elephant Chaser's Daughter by Shilpa Raj
NTR Theme

NTR Narrative

NTR Reading Ease

NTR Reading Pleasure
Summary
This is a must read book which claims to be a non-fiction, a memoir rather but would surely please the readers to the last! A perfect blend of story telling and realism!