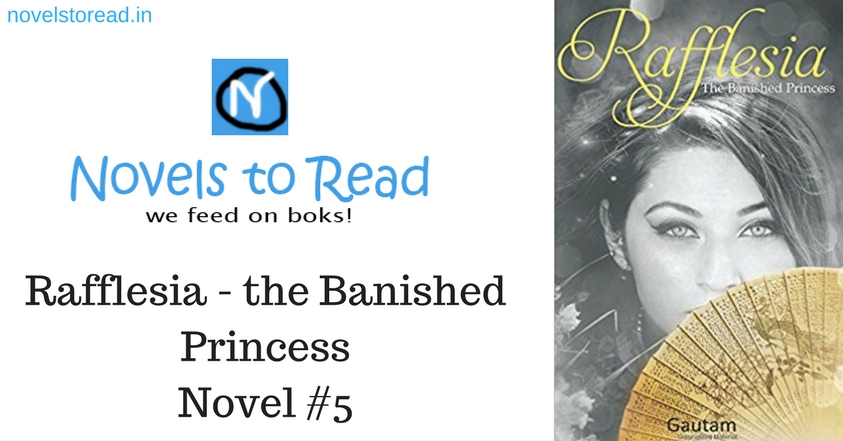 Remembering the moment when I told the readers of #NovelsToRead team that we got a new book from an Indian author, a debut author, in fact, Rafflesia – The Banished Princess. Seeing the cover and reading about it on the web, I was in the anticipation that the novel must be about some fancy fairy or princess who has lost the way and found herself trapped by some kind of a giant of a cruel king. The fairy tale, no doubt, is very much there. What we find surprising is that we have a lead character and the story around him which drives the novel is just opposite to all aspirations and anticipations of the cover. Appu is very much a human being and his problems are very much humanistic. He laughs like any common person; he cries like any common person and he has also married with so much hopes like any common man… however, his counterpart did not turn to be the fairy of her dreams and Appu's life became almost a hell!
Ths story of Rafflesia – The Banished Princess is very much like a purgatory without any sin. Appu has to suffer and only suffer for the crime that he did – no crime. He is a coy boy and he could not even get familiar with anyone; hurting someone was never possible for him. There is a mistake and he is not directly involved in that. He tries to get away from his troubles and seek respite in various works; various places and various other things. His friend Rahul helps him getting the divorce towards the end of the novel and he flies away to some happy place, probably to find his Rafflesia – someone who is only made for him.
Reading this novel, which is around 400 pages, was a different experience. There is no excitement in it and there are absolutely no nude scenes, the doctrine which has become common among the authors. Still, there is something in it, some serious thing which kept me involved and strangely attached to it. Believe me, that's a serious novel, readers! We go into the past; we fly back to future; we live the present and we dwell with Appu. Readers can experience the excruciating pain that Appu goes through and tries his best to rub that off, but in vain. At last, he has to leave almost everything which we may call his belongings and then he finally emerges a new one.
Reviews and opinions from the top book critics in India and some quality book review websites have been amazing. The debut novel by Gautam is being read and appreciated by people from different parts of this great fiction loving nation.
The theme of the novel is absolutely amazing – serious – great, if I may say, daring too, keeping in mind that the author of Rafflesia – The Banished Princess is a debutant! The plot could be a little better and moving. The narrative is simple and connecting with the readers. It can be an amazing read for those who are looking for something new and worthwhile to give their time.
Review by a #NovelsToRead Staff
Rafflesia - The Banished Princess
NTR Theme

NTR Style

NTR Reading Pleasure
Summary
This is a novel for those serious readers who understand what fiction is.